About The Comic News
The print edition of The Santa Cruz Comic News is a monthly journal of progressive editorial cartoons. Each issue features well over 100 cartoons from the nation's leading political cartoonists. The Comic News is the granddaddy of all cartoon newspapers — established 1984. Publishers: Thom Zajac and John Govsky.
Our online edition features weekly updates of the best progressive editorial cartoons in the nation. Our website also has an archive of thousands of progressive editorial cartoons going back to 2005.
History of The Comic News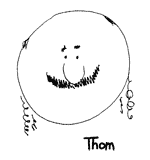 September 12, 1984: The first issue of The Santa Cruz Comic News is published. In a rare moment of clarity, founder Thom Zajac had come up wit h the idea of using only syndicated material — primarily editorial cartoons — to create the first newspaper of its kind, and it becomes an instant hit. Over the course of the next ten years, The Santa Cruz Comic News will inspire the creation of over 100 "comic newspapers," including The Manhattan Comic News, The Eugene Comic News, Funny Times, The Moscow Comic News, Arcata's Comic Relief, The Boston Comic News, The No Joke News (Chico), The Oslo Comic News, The Tucson Comic News, The Boulder Comic News, Charlotte's Comic Review, Sacramento's Comic Press News, The Amherst Comic News, and The Tokyo Comic News.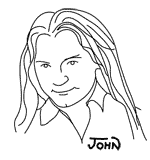 May, 1995: The US Postal Service releases the Richard Nixon postage stamp, and The Santa Cruz Comic News quickly follows suit by releasing The Nixon Envelope. Placing the president behind bars, The Nixon Envelope becomes a media sensation gracing the front pages of newspapers across the nation, as well as the pages of Time Magazine and Playboy. Even though the envelopes are not available in stores — and the Internet is not yet commercially viable — over 500,000 envelopes are sold, making The Nixon Envelope the most popular political envelope in history.
August, 2004: John Govsky becomes co-publisher and brings The Comic News into the cyber world. The Web site begins modestly, offering free samples and accepting electronic subscription payments.
Some of the Cartoonists Published in The Comic News

Aislin (Terry Mosher), The Montreal Gazette, Canada
Eric Allie, Pioneer Press, Illinios
Wolfgang Ammer, Wiener Zeitung, Vienna, Austria
Amorim, Correio do Povo, Rio Grande do Sul, Brazil
Kirk Andersen
Don Asmussen, San Francisco Chronicle
Tony Auth, Philadelphia Inquirer
Rex Babin, Sacramento Bee
Pat Bagley, Salt Lake Tribune
Angel Dario Banegas, La Prensa, San Pedro Sula, Honduras
Brain Barling, Christian Science Monitor
Ross Bateup, The Advertiser, Adelaide, Australia
Clay Bennett, Christian Science Monitor
Joep Bertrams, Het Parool, Amsterdam, Netherlands
Hasan Bleibel, Al-Mustakbal, Beirut, Lebanon
Angel Boligan, El Universal, Mexico City, Mexico
Jim Borgman, Cincinnati Enquirer
John Branch, San Antonio Express-News
Gary Brookins, Richmond Times-Dispatch
Cam Cardow, Ottowa Citizen
Daryl Cagle, Cagle Cartoons
Patrick Chappatte, International Herald Tribune
Gary Clement, National Post, Toronto, Canada
Paul Combs, Tribune Media Services
Paul Conrad, Tribune Media Services
Pavel Constantin, Romania
Patrick Corrigan, Toronto Star, Canada
Dale Cummings, The Winnipeg Free Press, Canada
Herb Dagningen, Lilehammer, Norway
Jeff Danziger, CWS/CartoonArts Intl.
Dario Castillejos, Imparcial de Oaxaca, Oaxaca, Mexico
John Darkow, Columbia Daily Tribune, Missouri
Matt Davies, Journal News
Frederick Deligne, Nice-Matin, Nice, France
Brian Duffy, Des Moines Register
Rod Emmerson, New Zealand Herald, Auckland
Bob Engelhart, Hartford Courant
Arcadio Esquivel, La Nacion, Costa Rica; La Prensa, Panama
Aristides Esteban Hernandez Guerrero, Juventud Rebelde (Havana)
David Fitzsimmons, Arizona Daily Star, Tucson AZ
Manny Francisco, The Manila Times, Philippines
Brian Gable, The Globe and Mail, Toronto, Canada
Gado, The Daily Nation, Kenya
Finn Graff, Dagbladet, Oslo, Norway
Rainer Hachfeld, Neues Deutschland, Germany
Roar Hagen, Verdens Gang, Oslo, Norway
Emad Hajjaj, Al Ghad, Amman, Jordan
Walt Handelsman, Newsday
Julius Hansen, Horsens Folkeblad, Horsens, Denmark
Riber Hansson, Svenska Dagbladet, Stockholm, Sweden
Harry Harrison, The South China Morning Post
David M. Hitch, Worcester Telegram and Gazette, MA
David Horsey, Seattle Post-Intelligencer
Sandy Huffaker, Cagle Cartoons
Tom Janssen, Trouw, Amsterdam, Netherlands
Olle Johansson, Sweden
Taylor Jones, Tribune Media Services
KAL (Kevin Kallaugher), The Economist, London, CWS/CartoonArts Intl.
Mike Keefe, Denver Post
Keshav, The Hindu, New Delhi, India

Michel Kichka, Telad, Jerusalem, Israel
Yaakov Kirschen, Jerusalem Post, Israel
Christo Komarnitski, Sega, Sofia, Bulgaria
Jeff Koterba, Omaha World-Herald
Michael Kountouris, Greece
Mike Lane, Cagle Cartoons
Sean Leahy, The Courier-Mail, Brisbane, Australia
Mike Lester, Rome News-Tribune
Laazan Libano, Cagle's Best of Latin America
Mike Luckovich, Atlanta Journal-Constitution
Jimmy Margulies, The Record, New Jersey
Doug Marlette, Tallahasee Democrat
Ricardo Martinez, El Mundo, Madrid, Spain
RJ Matson, Cagle Cartoons
Gary McCoy, The Suburban Journals, IL, Cagle Cartoons
Rick McKee, The Augusta Chronicle
Alan Moir, Sydney Morning Herald, Australia
Jim Morin, Miami Herald
Antonio Neri Licón, Mexico
Peter Nicholson, The Australian, Melbourne, Australia
Jack Ohman, The Oregonian
Pat Oliphant, Universal Press Syndicate
Simanca Osmani, Cagle Cartoons, Brazil
Pancho, Le Monde, Paris, France
Paresh Nath, National Herald, New Delhi, India
Jeff Parker, Florida Today
Mike Peters, Dayton Daily News
Roy Peterson, The Sun, Vancouver, Canada
Joel Pett, Lexington Herald-Leader, CWS/CartoonArts Intl.
Petar Pismestrovic, Kleine Zeitung, Austria
Pep (Jyllands-Posten), Viby, Denmark
Ted Rall
Mike Ritter, Arizona Tribune
Sakai, Kagoshima Pref., Japan
Heiko Sakurai, Essen, Germany
Oliver Schopf, Der Standard, Vienna, Austria
Bas van der Schot, NRC Handelsblad, Rotterdam, Netherlands
Peter Schrank, The Independent, London, UK
Drew Sheneman, Newark Star Ledger
Kevin Siers, Charlotte Observer
Heng Kim Song, Lianhe Zaobao, Singapore
Stavro, Ad-Dabbour, Beirut, Lebanon
Tab (Thomas Boldt), Calgary Sun
Ann Telnaes, CWS/CartoonArts Intl.
Tom Toles, Washington Post
Jan Tomashoff, Dusseldorf, Germany
John Trevor, Albuquerque Journal
Serguei Tunin, Moscow
Martyn Turner, The Irish Times, Ireland
Kirk Walters, Toledo Blade
Dan Wasserman, Boston Globe
Shan Wells, Durango Telegraph, Durango, Colorado
Signe Wilkinson, Philadelphia Daily News
Monte Wolverton, Cagle Cartoons
Don Wright, Palm Beach Post
Larry Wright, Detroit News
Paul Zanetti, Australia
Zapiro, Sunday Times, Johannesburg, South Africa
Alexandr Zudin, Obshaya Gazeta, St. Petersburg, Russia
Adam Zygus, The Buffalo News
---
The print edition of The Santa Cruz Comic News is a monthly journal of progressive political cartoons. Each issue features well over 100 cartoons from the nation's leading editorial cartoonists. The Comic News is the granddaddy of all cartoon newspapers — established 1984. Subscriptions to our print edition support this Web site. Subscribe today!